Despite having a firm grip on the underlying subjects, many sociology students have a difficult time meeting the requirements and deadlines of their sociology essays and dissertations. At CustomizedPapers.com, we're familiar with how students can find themselves being crushed under the weight of an impending deadline with no recourse. For that reason, we provide our services to you at a price we believe is more than reasonable considering the high quality of our work. Whether you just need us to finish half of your essay, or you need the entirety of your thesis, from the proposal all the way through to the end, including the required research, we are here to help. Regardless of how dire or slight you believe your writing predicament to be, our staff of qualified writers is ready for the job.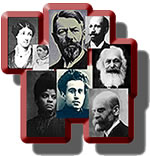 Our qualified team has spent years writing papers in the area of sociology and related fields, and are capable of delivering quality essays and dissertations which have been thoroughly researched, by the deadline, every time. Our staff can handle any subject covered by the social sciences, all the way up to the Ph.D. level, regardless of the length of the paper or the shortness of the deadline. In addition to drawing upon the theoretical aspects of sociology, it is also vital that the paper covers the related practical methods. Writers at CustomizedPapers.com can perform everything from deciding upon a topic on which your essay or dissertation should focus, to the subsequent required research, and data analysis.
Our sociology essays are written in a way that provides an impression of your ability to communicate complicated sociological scenarios and interpret data using concise language that is comfortable to the layperson. Areas of sociology which we have covered in the past include but are not limited to gender and sexuality, social psychology, sociology as it applies to work, drug use in society, contemporary social changes in society, social theory, and a range of other topics. Regardless of the topic you wish to focus on, or even if you don't have a particular topic in mind, our writers are capable of providing a quality paper. The required referencing, including a bibliography and footnotes, are included in the paper delivered.

Our sociology essays, dissertations, and other coursework are all handled by the native English speakers who hold degrees from certified universities in the United States, Canada, United Kingdom and Australia. Our custom academic papers are all written from the scratch and furthermore all our finished products are run through a comprehensive plagiarism-detection system i.e. WriteCheck to guarantee the integrity of final product. At CustomizedPapers.com, it is our goal to inspire you with our high service quality and guarantees with hopes to serve you again in the future for all your academic writing needs.