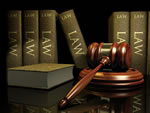 Regardless of the size or the specifications of your law essays and dissertations, our writers at CustomizedPapers.com are capable of providing a quality paper that meets or exceed your expectations. We ensure the work quality by only using our certified in-house expert legal writers, who write all of their papers from scratch and undertake the requisite research and referencing personally. We further assure the quality and uniqueness of our customized content through a comprehensive system of proofreading and anti-plagiarism checking in order to deliver the utmost satisfaction and supreme work. You can additionally be assured of a bibliography being included in the paper which clearly cites any references made in your law essay or dissertation.

Law essays and dissertations require a relatively formal structure compared to the other academic writing papers, which you may be having a trouble grasping. It can especially be unnerving having to phrase your thoughts in such a formulaic manner when a deadline is bearing down on your head. Our writers on the other hand have years of experience in the subject and are fully capable of writing a paper that agrees with the stylistic guidelines of your university. Writers at CustomizedPapers.com can put together a persuasive paper worthy of top marks. They have years of experience writing papers and many of them currently work in the law agencies and can therefore offer personal insight into the field.

Ideally, a properly written law dissertation walks the reader through the individual points of analysis in such a way that it sets up a logical conclusion of the paper. It is important to not simply follow through the specifics of old cases, but rather to present your case in a manner which properly demonstrates your knowledge of the subject. Our writers are capable of providing these unique insights and their years of experience in the field that demands for compelling arguments.

Generally a legal dissertation examines a legal scenario in light of past statues and cases which influence the scenario. It requires thorough research and referencing followed by the statement of facts in a logical and concise manner. By thoroughly researching the relevant past precedents and cases, our writers are able to form a comprehensive picture of the scenario at hand upon which the paper is constructed. More importantly, they can write in a manner which serves to be persuasive and also fits into the syntax of legal writing.

Our writers are fully capable of handling whatever specific topic you need a paper written on in the field of law. We always have a writer who is fully capable of providing a quality custom paper to your specifications before the agreed upon deadline every time.