In addition to our wide range of academic writing services, we at CustomizedPapers.com also offer an essay editing service. Regardless of the academic level and subject, our editors are capable of bringing your work far above the ground.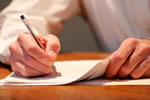 Our editing staff includes a list of professionals who have devoted years in the business of writing, have earned prestigious degrees from the esteemed universities and who are familiar with the rhetoric used to grade essays and other academic works based on style and grammar conventions. You must note that while editing the given content, the editor will not change the underlying fundamental message of the paper. The final paper is directly dependent on material covered by your original content.

At CustomizedPapers.com, we apply two basic categories of editing service. Our primary service is for our editors to simply go through and clean up the grammar and spelling errors in the paper. If you prefer a more thorough revision, one of our editing staff can additionally go through and attempt to reorganize the paper in order to present a more cohesive paper. Whether you need to edit an essay, research paper, or any other academic paper, at CustomizedPapers.com our editors are qualified and ready to help you. Alternatively, you may be interested in our writing service which may be better suited to improving your grade, if you wish for one of our professional writers to take part in researching and altering the fundamental content of your assignment.Whether you need an essay written from the scratch, or a paper you wrote yourself to be finished or rewritten, our writers are capable of coming to a pleasurable business agreement. We stress again that the basic editing service is only intended to restate the content you include in your paper in a more grammatically or stylistically correct manner, with lesser research and scope.

Being an imperative step of academic writing, essay editing is required by one and all. One cannot put forward an essay without essay proofreading and editing. In the process of essay writing, it is typical to make errors yet it is deplorable to submit an assignment without meticulous proofreading of the text. At CustomizedPapers.com, the expert editors are constantly online to proffer specialized support and assistance with essay editing. We pride ourselves for being trusted by numerous clients who have previously hired our services and have revisited our website time and again.

If you wish to ask any questions before ordering our editing services, please feel free to send an e-mail to support@customizedpapers.com and one of our customer service technicians will get back to you as soon as possible.