Whether you simply need to come up with the perfect topic and write your proposal, or you need us to provide you with the entire dissertation, at CustomizedPapers.com, our writers are all set to work with you every step of the way. Our qualified writers are prepared to come up with a unique topic and perform the thorough research required in order to write a quality paper. Our writers have years of experience working in economics and are fully capable of meeting your criteria by your deadline.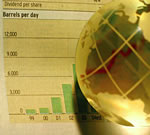 Our writers understand the importance of balancing the use of math-centric quantitative statistics with the qualitative analysis of research. In order to properly demonstrate a thorough understanding of the subject, an economics dissertation should preferably use a synthesis of both methods. If you have an opinion on how quantitative or qualitative you want the research to be, our writers can work to your specifications. They are comfortable with both areas, and if you do not have a preference, they are capable of using a balance that fits the standards of today's economics courses.

We, at CustomizedPapers.com, employ only native English speaking writers with degrees from accredited universities in the United States, Canada, United Kingdom and Australia to write the economics essays and dissertations. They are comfortable in proving their hands on both the micro-economics and macro-economics papers. Whether you're looking for a short assignment or a long dissertation, our writers can provide a quality paper every time. Papers which our writers have covered in the past, to name a few, include topics diverse as portfolio management, the use of computers in accounting and business, risk management, corporate accounting and finances, financial instruments, and quantitative accounting and business methods.

All of our papers are guaranteed to be written from scratch and ran through a comprehensive anti-plagiarism software system in order to ensure everything is of the utmost originality. Our writers perform the needed research themselves in order to ensure the legitimacy of data, and additionally supply the essential endnotes, footnotes, references, and bibliographies. No matter how close your deadline looms or the amount of work that needs to be done, you will not be disappointed by CustomizedPapers.com.

Be it just a little help with your proposal or a portion of your economics essays, or even a thorough research and data collection required, our staff of economics writers is proficient in undertaking each one of these while simultaneously ensuring to meet your deadline. Our staff put their best effort into each and every paper regardless of the size or the time until the deadline, and we guarantee every paper as per your satisfaction.