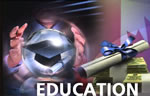 Whether you need an education essay or a thesis, we have a writer who can provide exactly what you are looking for. At CustomizedPapers.com, we pride ourselves in our ability to provide high quality essays at affordable rates.

In order to write a quality education dissertation, it is not enough for one to simply state the current affairs of education as it exists, but instead to address areas that can be changed in order to improve education. Preferably in order to ensure the best grade, the paper should provide a unique viewpoint on a basic problem in education and should offer a solution to that problem which isnít unreasonable. The extensive amount of forethought and research required in order to deliver a compelling paper is often daunting to students, which is why we provide our custom essay writing services.

When you are required to write a dissertation, you need to submit a letter of proposal detailing the specific area of research. Writers at CustomizedPapers.com are capable of working with you in order to come up with a topic of the proposal, as well as writing the proposal and performing the subsequent dissertation. Even if you do not have an area of interest in mind, our writers are capable of coming up with one for you.

Our writers are all native English speakers who hold PhD and Masters from the renowned colleges and universities in the United States, Canada, United Kingdom and Australia. They utilize the highest standard of quality in order to assure customer satisfaction. CustomizedPapers.com guarantees to write the education essays and other academic papers right from the scratch and ensures double checking the same with the latest in anti-plagiarism software i.e. WriteCheck to make certain that the work is of the highest caliber. We guarantee our ability to provide original content to your specifications and by the agreed upon time. Additionally we provide all the essential research and referencing as well as footnotes, endnotes and bibliography.

At CustomizedPapers.com, the education essay writers have years of experience in their particular field, all ranging from early childhood to college level education techniques. Our writers have in the past wrote essays detailing topics including home schooling, early childhood education, gifted education, autism, counselor education, group reading, learning styles, English as a second language, cognitive learning, teacher supervision, reciprocal teaching, mainstreaming mental retardation, reading disabilities, experiential learning, student motivation, individualized education programs, music education, librarianship, math anxiety, peer learning, student motivation, sociology of education and many more.