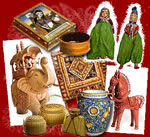 Our staff hosts a selection of writers with experience in writing arts essays, dissertations, and other coursework in the sphere of arts. Whether your paper needs to focus on architecture, Baroque art, cubism, expressionism, Gothic revival, modernism, performance art, pottery, oceanic art, Renoir, or any other artistic topics, our skilled writers shall have a 100% unique paper on the agreed upon deadline.

Writers at CustomizedPapers.com have extensive professional backgrounds in arts, they experience writing on a deadline and are ready to work to your specifications. They are familiar with the expected flavor of response in the arts courses and can with little instruction provide compelling custom essays. Our writers wish to work with you to create the best paper possible and are glad to receive any input on what you may want the end product to include. If there is a particular direction in which you wish the paper to go, please inform us along with the rest of your order information and our writer will do their best to portray your vision.

When writing an arts essay it is important to perform a comprehensive analysis of the book, sculpture, painting, movie, piece of music, theatrical performance, or whatever the prospective media happens to be. Our writers are prepared to follow completely in the areas of researching the subject at hand. They undertake all of their work with utmost seriousness, taking into consideration not only the piece but the artist who created it. At CustomizedPapers.com, the writers take into account the socioeconomic paradigms in place at the time of the piece's creation and its' existence in context to the world at large.

All of our writers have experience in writing top grade arts essays which have the expected grammatical and stylistic qualities that are required at prestigious universities and other centers of learning. They are willing to do the necessary researching, outlining, and referencing which is required of a high quality paper. Additionally, they are able to pull from their own experiences in the arts in order to provide unique insights.

All of our arts essays are ran through a thorough process of proofreading and put under the scrutiny of anti-plagiarism software, WriteCheck to guarantee its integrity. Our writers are all native English speakers and hail from colleges in the United States, Canada, United Kingdom and Australia. We pride ourselves in the exemplary quality of our arts essays, dissertations, coursework, and other related papers. Anything that reaches you has gone through an extensive process in order to ensure it is of only the highest quality. Whether you need a short arts essay or a thorough dissertation or other academic paper, do not hesitate to contact us about the job.